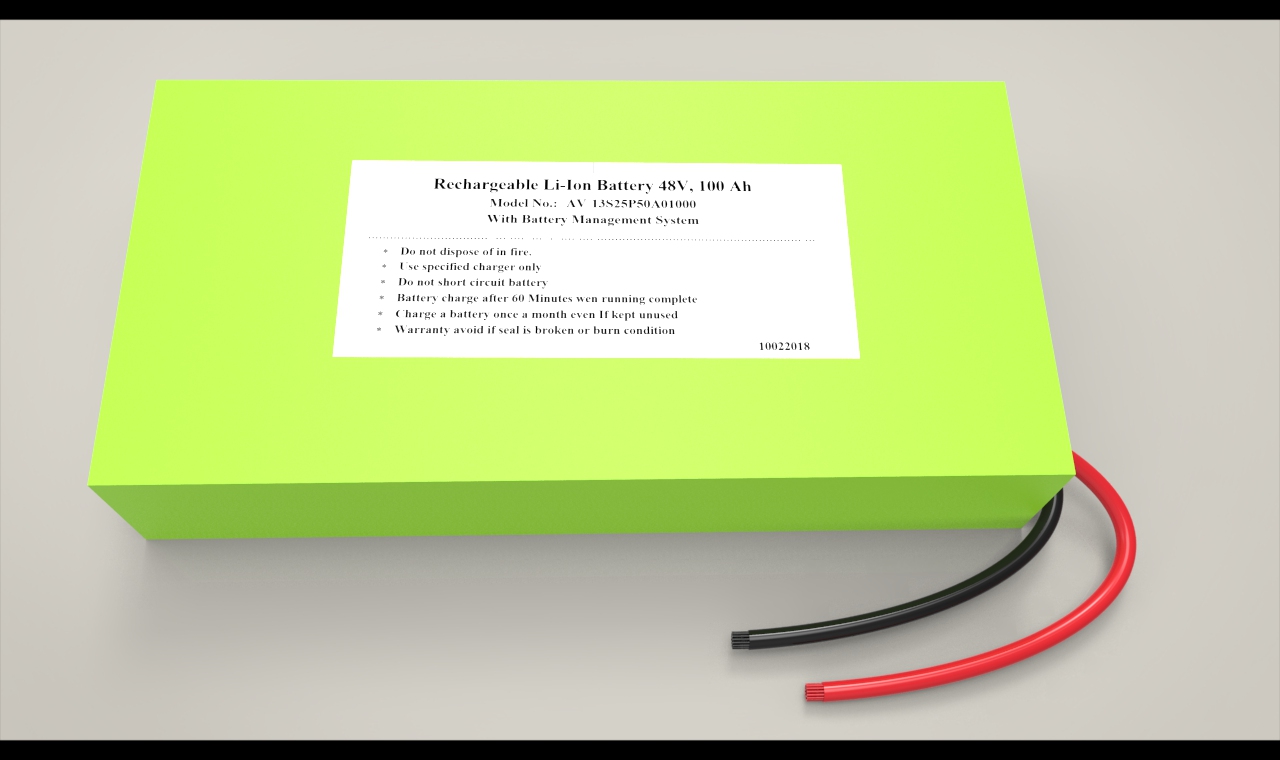 We provide wide range of customized Li-ion Battery Pack. You can find any range of battery pack with us. 12V, 24V, 36V, 48V, 60, 72V, 96V etc. These batteries used in 2 Wheel, 3 Wheel, and 4 Wheel Vehicles well as other related projects.
Battery Type: Li-Ion, FeLiO4P    Warranty:  6-12 Months
Customization: Yes (As per Your requirement)
Hi-Kraft (BIS Approved Cell)
.
Cell Data Sheet
LWS-16S150A-
LWS-16S120A
LWS-16S100A
LWS-13S150A
LWS-13S100A
LWS-13S40A
Download
Cell Data Sheet
Descriptions:
Brand: Hi-Kraft
Nominal Voltage: 3.7V
Nominal Capacity: 2600mAh
Battery type: LiFePo4
Charge current: 100.0A
Internal resistance: <0mΩ
Maximum charging voltage: 3.75 + -0.05V
Continuous discharge current: 100A
Maximum pulse discharge current: 3C
Discharge Cut-off voltage: 2.0V
Cell weight: 2250g average
Life cycles: More than 2000 times
Dimensions (mm): 37(thickness) x 131(width) x 2700mm (length excluding Lugs
Applications:
Widely used battery, electric vehicles, model aircraft, electric tools, Golf carts, sightseeing coaches, electric Motorcycles, electric bicycles. Batteries pack diy, inverter battery, outdoor high power lithium battery pack.
LWS-16S150A-
PCM Specifications For 59.2V (16S) LiFePo4 Battery Packs

Model: LWS-16S150A

No.

                                                                                                       Test Item

Criterion

1.

Voltage

Charging Voltage for single cell

DC:67.2V 3.7/Cell

Balance voltage for single cell

4.2V+0.025V

2.

Current

Balance current for single cell

42mA+5mA

Current Consumption

<25uA

Maximal continuous charging current

150A

Maximal continuous discharging current

150A

3.

Over charge protection

Over charge detection voltage for single cell

4.25V+0.025V

Over charge detection delay time

800-1300mS

Over charge release voltage for single cell

4.05+0.05V

4.

Over Discharge protection

Over discharge detection voltage for single cell

2.50V+0.0625V

Over discharge detection delay time

100-1800mS

Over discharge release voltage for single cell

3.00+0.075V

5.

Over current protection

Over current detection voltage

100+25mv

Over current detection current

350+50A

Detection delay time

800-1300mS

Release condition

Cut Load

6.

Short Protection

Detection Condition

Exterior short circuit

Detection delay time

50-200us

Release condition

Cut load

7.

Resistance

Protection Circuity (MOSFET)

<60mΩ

8.

Temperature

Protection Temperature

75°C+5°C

Temperature Release

50.5°C + 12.5°C

Operating Temperature Range

-40~+85°C

Storage Temperature Range

-40~+125°C
LWS-16S120A
PCM Specifications For 59.2V (16S) LiFePo4 Battery Packs

Model: LWS-16S120A

No.

                                                                                                                                     Test Item

Criterion

1.

Voltage

Charging Voltage for single cell

DC:67.2V 3.7/Cell

Balance voltage for single cell

4.2V+0.025V

2.

Current

Balance current for single cell

42mA+5mA

Current Consumption

<25uA

Maximal continuous charging current

120A

Maximal continuous discharging current

120A

3.

Over charge protection

Over charge detection voltage for single cell

4.25V+0.025V

Over charge detection delay time

800-1300mS

Over charge release voltage for single cell

4.05+0.05V

4.

Over Discharge protection

Over discharge detection voltage for single cell

2.50V+0.0625V

Over discharge detection delay time

100-1800mS

Over discharge release voltage for single cell

3.00+0.075V

5.

Over current protection

Over current detection voltage

100+25mv

Over current detection current

350+50A

Detection delay time

800-1300mS

Release condition

Cut Load

6.

Short Protection

Detection Condition

Exterior short circuit

Detection delay time

50-200us

Release condition

Cut load

7.

Resistance

Protection Circuity (MOSFET)

<60mΩ

8.

Temperature

Protection Temperature

75°C+5°C

Temperature Release

50.5°C + 12.5°C

Operating Temperature Range

-40~+85°C

Storage Temperature Range

-40~+125°C
LWS-16S100A
PCM Specifications For 59.2V (16S) LiFePo4 Battery Packs

Model: LWS-16S100A

No.

                                                                                                                                     Test Item

Criterion

1.

Voltage

Charging Voltage for single cell

DC:67.2V 3.7/Cell

Balance voltage for single cell

4.2V+0.025V

2.

Current

Balance current for single cell

42mA+5mA

Current Consumption

<25uA

Maximal continuous charging current

100A

Maximal continuous discharging current

100A

3.

Over charge protection

Over charge detection voltage for single cell

4.25V+0.025V

Over charge detection delay time

800-1300mS

Over charge release voltage for single cell

4.05+0.05V

4.

Over Discharge protection

Over discharge detection voltage for single cell

2.50V+0.0625V

Over discharge detection delay time

100-1800mS

Over discharge release voltage for single cell

3.00+0.075V

5.

Over current protection

Over current detection voltage

100+25mv

Over current detection current

350+50A

Detection delay time

800-1300mS

Release condition

Cut Load

6.

Short Protection

Detection Condition

Exterior short circuit

Detection delay time

50-200us

Release condition

Cut load

7.

Resistance

Protection Circuity (MOSFET)

<60mΩ

8.

Temperature

Protection Temperature

75°C+5°C

Temperature Release

50.5°C + 12.5°C

Operating Temperature Range

-40~+85°C

Storage Temperature Range

-40~+125°C
LWS-13S150A
PCM Specifications For 48.1V (13S) LiFePo4 Battery Packs

Model: LWS-13S 150A

No.

                                                                         Test Item

Criterion

1.

Voltage

Charging Voltage for single cell

DC:54.6V CC/CV

Balance voltage for single cell

4.2V+0.025V

2.

Current

Balance current for single cell

42mA+5mA

Current Consumption

<25uA

Maximal continuous charging current

150A

Maximal continuous discharging current

150A

3.

Over charge protection

Over charge detection voltage for single cell

4.25V+0.025V

Over charge detection delay time

800-1300mS

Over charge release voltage for single cell

4.05+0.05V

4.

Over Discharge protection

Over discharge detection voltage for single cell

2.50V+0.0625V

Over discharge detection delay time

1000-1800mS

Over discharge release voltage for single cell

3.00+0.075V

5.

Over current protection

Over current detection voltage

200+25mv

Over current detection current

350+20A

Detection delay time

800-1300mS

Release condition

Cut Load

6.

Short Protection

Detection Condition

Exterior short circuit

Detection delay time

50-200us

Release condition

Cut load

7.

Resistance

Protection Circuity (MOSFET)

<20mΩ

8.

Temperature

Protection Temperature

75°C+5°C

 
 

Operating Temperature Range

-40~+85°C

Storage Temperature Range

-40~+125°C
LWS-13S100A
PCM Specifications For 48.1V (13S) LiFePo4 Battery Packs

Model: LWS-13S 100A

No.

                                                                         Test Item

Criterion

1.

Voltage

Charging Voltage for single cell

DC:54.6V CC/CV

Balance voltage for single cell

4.2V+0.025V

2.

Current

Balance current for single cell

42mA+5mA

Current Consumption

<25uA

Maximal continuous charging current

100A

Maximal continuous discharging current

100A

3.

Over charge protection

Over charge detection voltage for single cell

4.25V+0.025V

Over charge detection delay time

800-1300mS

Over charge release voltage for single cell

4.05+0.05V

4.

Over Discharge protection

Over discharge detection voltage for single cell

2.50V+0.0625V

Over discharge detection delay time

1000-1800mS

Over discharge release voltage for single cell

3.00+0.075V

5.

Over current protection

Over current detection voltage

200+25mv

Over current detection current

350+20A

Detection delay time

800-1300mS

Release condition

Cut Load

6.

Short Protection

Detection Condition

Exterior short circuit

Detection delay time

50-200us

Release condition

Cut load

7.

Resistance

Protection Circuity (MOSFET)

<20mΩ

8.

Temperature

Protection Temperature

75°C+5°C

 
 

Operating Temperature Range

-40~+85°C

Storage Temperature Range

-40~+125°C
LWS-13S40A
PCM Specifications For 48.1V (13S) LiFePo4 Battery Packs

Model: LWS-13S 40A

No.

                                                                         Test Item

Criterion

1.

Voltage

Charging Voltage for single cell

DC:54.6V CC/CV

Balance voltage for single cell

4.2V+0.025V

2.

Current

Balance current for single cell

42mA+5mA

Current Consumption

<25uA

Maximal continuous charging current

40A

Maximal continuous discharging current

40A

3.

Over charge protection

Over charge detection voltage for single cell

4.25V+0.025V

Over charge detection delay time

800-1300mS

Over charge release voltage for single cell

4.05+0.05V

4.

Over Discharge protection

Over discharge detection voltage for single cell

2.50V+0.0625V

Over discharge detection delay time

1000-1800mS

Over discharge release voltage for single cell

3.00+0.075V

5.

Over current protection

Over current detection voltage

200+25mv

Over current detection current

350+20A

Detection delay time

800-1300mS

Release condition

Cut Load

6.

Short Protection

Detection Condition

Exterior short circuit

Detection delay time

50-200us

Release condition

Cut load

7.

Resistance

Protection Circuity (MOSFET)

<20mΩ

8.

Temperature

Protection Temperature

75°C+5°C

 
 

Operating Temperature Range

-40~+85°C

Storage Temperature Range

-40~+125°C
Download